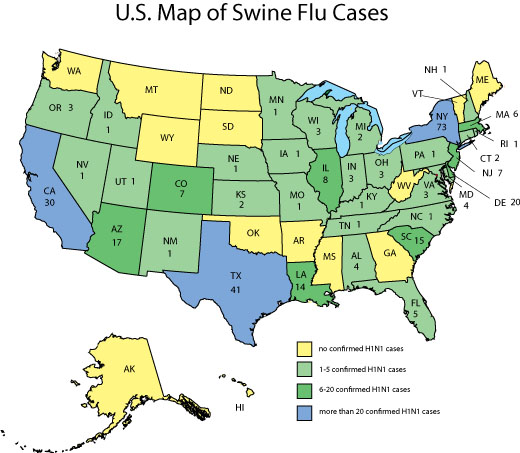 Media releases compiled by Karin Stanton/Hawaii247.com Contributing Editor
According to the World Health Organization, 21 countries have officially reported 1085 cases of influenza A (H1N1) infection as of Monday afternoon, May 4.
At least 36 states have confirmed cases of the H1N1, as well. The United States has reported 279 laboratory confirmed human cases, including one death.
Over the weekend, CDC was to complete deployment of 25 percent of the supplies in the Strategic National Stockpile (SNS) to all states in the continental United States. These supplies and medicines will help states and U.S. territories respond to the outbreak.
Mexico has reported 590 laboratory confirmed human cases of infection, including 25 deaths. The United States has reported 286 laboratory confirmed human cases, including one death.
The following countries have reported laboratory confirmed cases with no deaths – Austria (1), Canada (101), China, Hong Kong Special Administrative Region (1), Costa Rica (1), Colombia (1), Denmark (1), El Salvador (2), France (4), Germany (8), Ireland (1), Israel (4), Italy (2), Netherlands (1), New Zealand (6), Portugal (1), Republic of Korea (1), Spain (54), Switzerland (1) and the United Kingdom (18).
The World Health Organization continues to report there is no risk of infection from consumption of well-cooked pork and pork products.
It is considered prudent for people who are ill to delay international travel and for people developing symptoms following international travel to seek medical attention, in line with guidance from national authorities. Individuals are advised to wash hands thoroughly with soap and water on a regular basis and should seek medical attention if they develop any symptoms of influenza-like illness.
WHO advises no restriction of regular travel or closure of borders.
— Find out more:
World Health Organization: www.who.int/csr/disease/swineflu/en/index.html
U.S. Department of Health & Human Services Pandemic Flu Site: www.PandemicFlu.gov
International Map of Confirmed Cases: www.who.int/csr/disease/swineflu/GlobalSubnationalMaster_20090503_1630_lrg.jpg
Centers for Disease Control: www.cdc.gov/h1n1flu