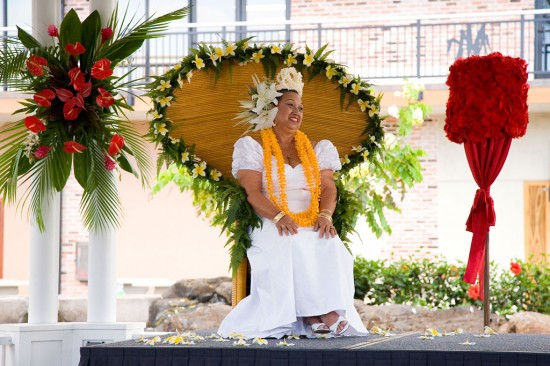 MEDIA RELEASE
KOHALA COAST— Queens' MarketPlace celebrates the time-honored tradition of May Day, Lei Day in Hawaii, on Friday, May 1, 2009. Keiki to kupuna, visitors and residents alike can enjoy the world of lei-making, watch keiki hula and ukulele performances, admire professional lei contest entries, experience various lei demonstrations. You can even shop for a May Day lei for yourself or someone special.
In the morning, the focus is on the keiki, as Queens' MarketPlace welcomes Waimea and Waikoloa Elementary School students for fun cultural activities. Learning opportunities will include: shell and nut lei–Randi Lee, akulikuli lei demonstration–Bernice Berdon, unukupukupu (a type of fern) and ti leaf wristlets–Kumu Keala Ching and Halau, and Hawaiian food culture and sweet potato tasting.
From 10:30–11:00 a.m. the public is invited to a musical May Day performance by Waimea Elementary School students, featuring ukulele music, hula and a Bon dance which everyone can join and enjoy.
"We've asked the participating schools if each class could make 36-inch-long fresh flower lei and bring them to Queens' MarketPlace," says Debbie Parmley, Vice President of Commercial Real Estate. "We will join them all together around our 'Avenue of Aloha' sign for photo opportunities at the evening events. Afterwards, all those lei, and the contest entries too, will be donated to Regency at Hualalai Retirement community for the seniors to enjoy. It is a tradition that Queens' MarketPlace loves to share with our kupuna," says Parmley.
From 4:00-7:00 p.m., the Coronation Pavilion comes to life with a showcase of topnotch Hawaiian musicians, cultural practitioners and lei-makers. Attendees experience a professional lei contest and a variety of demonstrations, including fabulous lei made of feathers, flowers, seeds, nuts and shells.
At 5:30 p.m., the 2008 May Day Queen Aulani Young passes the crown to her daughter, 2009 May Day Queen Kapu Hoapili, in the grand traditional style of the monarchy era. And, music-lovers are treated to slack-key artistry by Alula, featuring Rolinda Bean, and by Na Hoku Hanohano-winner Keoki Kahumoku, in a melodious May Day Concert.
For more information, call Queens' MarketPlace, 886-8822 or visit www.WaikoloaBeachResort.com
Schedule of Events
4-7:00 p.m. Coronation Pavilion and surrounding courtyard, Various styles of lei-making demonstrations and lei for sale. "Avenue of Aloha" sign in honor of May Day. Professional lei contest entries on display in The Studio.
4:00 p.m. Na Hoku Award-winning slack key musician Keoki Kahumoku
5:00 p.m. Hawaiian music by Alula featuring Rolinda Bean
5:30 p.m. Crowning of the May Day Queen, Announcement of Professional Lei Contest winners
6:00 p.m. Hula performance by Aulani's Hula Halau