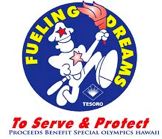 Police officers, Special Olympics West Hawaii and Tesoro will be filling tanks April 2 and April 3 at the Tesoro on Queen Kaahumanu Highway across from the Honokohau Small Boat Harbor.
Tesoro is hosting this event to raise money for SOWH, a year-round program of sports training and competitions for people with intellectual disabilities.
Volunteers are needed to pump gas, talk story, clean windshields, laugh and take donations. They can voluntarily work shifts either from 6 a.m.to 9 a.m. or from 3 p.m. until 7 p.m.
Tell a friend, tell a co-worker, and tell your tutu. If you need gas, Tesoro is the place to be. The place will be pumping. Twice the shifts, twice the people, and twice the fun. Get out there and pump someone up.
To volunteer or for more information, send an e-mail to KC Strand, SOWH volunteer coordinator, at zionvideos@yahoo.com or call Dave Ross, SOWH area director, at 345-1344. Also visit www.sowh.org.