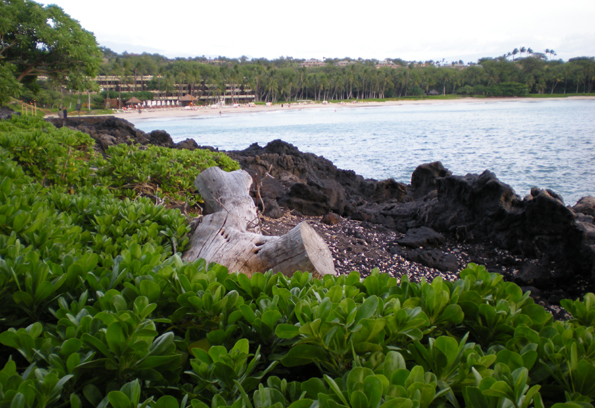 Video by Big Island Video News/Special to Hawaii247.com
Karin Stanton/Hawaii247.com Contributing Editor
It may have been a bit windy, but the breeze was just bringing in a new era. The Mauna Kea Beach Hotel is back in all its old-time glory.
The landmark resort kicked off its grand reopening weekend Friday night with a gala dinner attended by 300 island and resort dignitaries, loyal guests, a couple of Hollywood stars and a former general manager who could barely hold off tears of gratitude.
The hotel – one of the luxury resorts that helped put Hawaii on the must-see destination list of the 1960s – was damaged in the October 2006 earthquakes and forced to close for more than two years of repairs.
No worries. It wasn't going anywhere.
More than 350 of the 450 employees returned; guests came flooding back, selling out the 258 rooms and mini-suites for the weekend; and long-time general manager Adi Kohler just couldn't stay away.
"I call her 'my lady' and I'm so happy 'my lady' is back," Kohler said as the sun dipped over the Pacific Ocean, tiki torches lit the lawn and folks lined up to shake his hand. "This was 27 years of my life. It's very, very nice that they brought 'my lady' back."
The flagship property of the Prince Hotels and Resorts international portfolio, the Mauna Kea endured $150 million in renovations – and now boasts redesigned, spacious guest rooms, new restaurants, a new spa, and an extensive makeover of the legendary golf course complete with a new clubhouse.
There is lots of new, but the heart, the soul and the aloha remain. 
Kohler said he was touched, but not surprised, to see so many of his former colleagues and employees surround him on the luau lawn.
"So many of the staff came back," he said. "They are here. They are all here."
Current general manager Jon Gersonde said this weekend's gala reopening is nothing short of magical and he understands the emotional connection so many returning visitors have to the property perched on the Kohala Coast.
"It's pretty great," he said, shortly after sharing a toast with his predecessor Kohler and Mayor Billy Kenoi.
Kenoi said he and his wife, Takako, felt honored to be invited to 'Cuisines of the World' – a buffet of Big Island super chefs offering a myriad morsels – and to meet so many people.
Kenoi said the highlight of his evening came when he bumped into a Los Angeles travel agent.
"There is such uncertainty in our economic times right now, but she gave me a very hopeful atmosphere here tonight," he said. "She said everybody is excited about the Big Island. Everybody is looking for special places left in the world and we are one of them."
For more information about the gala weekend, contact The Mauna Kea Beach Hotel Concierge Desk at 882-5707.