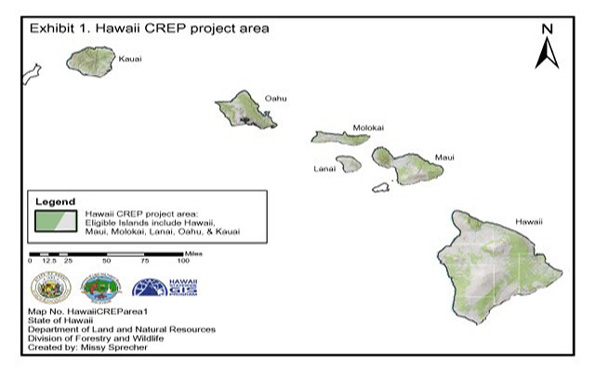 MEDIA RELEASE
A federal program that pays landowners to idle land for conservation is expected to benefit Hawaii's farmers and ranchers, beginning next month on the Big Island and Maui.
Lt. Gov. James "Duke" Aiona unveiled details about the Conservation Reserve Enhancement Program at a news conference last week on Oahu.
Aiona said the program – a partnership between the state and federal government – shows that strengthening Hawaii's economy and protecting the environment are not mutually exclusive.
"During these critical times, it is important to continue taking steps toward long-term economic recovery while advancing stewardship of our state's natural resources and this program does that," Aiona said. "This is truly a win-win situation."
Starting April 1, farmers and ranchers on Maui and the Big Island will be able to enroll in the statewide program, which is aimed at preserving up to 15,000 acres of farmland over 20 years. The program will be expanded to Molokai, Lanai, Kauai and Oahu by 2013.
Through CREP, program participants receive financial incentives from U.S. Department of Agriculture and the state to voluntarily enroll in 15-year contracts. 
Landowners or lessees with land that is physically and legally capable of being agricultural productive are eligible for the program. Other requirements may also apply. Interested producers should contact their local FSA service center for specific information regarding their eligibility.
Participants remove cropland and marginal pastureland from agricultural production and convert the land to native grasses, trees and other vegetation. The USDA Farm Service Agency administers CREP for USDA.
Payments from the program have been known to help improve water and air quality as well as control soil erosion. They have also helped produce wildlife habitat.
The total cost for Hawaii CREP over a 20-year period is estimated at $67 million, with USDA contributing $53.6 million and the state funding $13.4 million or 20 percent of the total program cost.
Partners in the program include two USDA agencies (Farm Service Agency and the Natural Resources Conservation Service), two Hawaii state agencies (Department of Land and Natural Resources and the Department of Agriculture), the University of Hawaii, the Environmental Defense Fund, as well as a number of other watershed and conservation groups.
The goals of Hawaii CREP:
* Reduce sediment and nutrient runoff from current levels.
* Increase coral reef cover and substantially increase coral diversity on coral reefs throughout the state.
* Improve wildlife and plant habitat of at least 10 threatened or endangered species through restoration of native forest ecosystems and riparian buffers.
* Reforestation of native vegetation in riparian buffer zones as well as rare and declining native habitats.
* Increase groundwater recharge through the planting of trees in upland pastures.
* Reduction in and control of invasive species in watersheds within the CREP target areas.
— Find out more:
Hawaii Conservation Resource Enhancement Program: hawaii.gov/dlnr/dofaw/forestry…
Farm Service Agency: www.fsa.usda.gov