Karin Stanton/Hawaii247.com Contributing Editor
It is the playground the people built and now it needs another heaping dose of community TLC.
Kamakana Children's Playground, at Harold H. Higashihara County Park, closed to fun and frolicking last month, in preparation for a massive overhaul.
"We had to close it down because it was just too unsafe," said Cliff Kopp, the community project manager. "This is going to be a total renovation by the time we are done."
Kopp has spent months lining up donations of materials, supplies and money. Now he needs YOU.
Most immediately, he said, he needs a crew of volunteers to operate a 40-foot vertical truck and pressure washing hose. Time is critical because Kopp only has use of the truck for 10 days and there is quite a bit of washing to do – most notably the 45-foot wooden play tower.
"We need people to operate that truck who don't mind being 40 feet up in the air with a power hose. I'm desperate, but I want people who can have fun at 40 feet," Kopp said. "Basically, I need an army."
A training and safety briefing is planned for 7:30 a.m. Friday, March 13, but Kopp said anyone can contact him anytime if they want to help.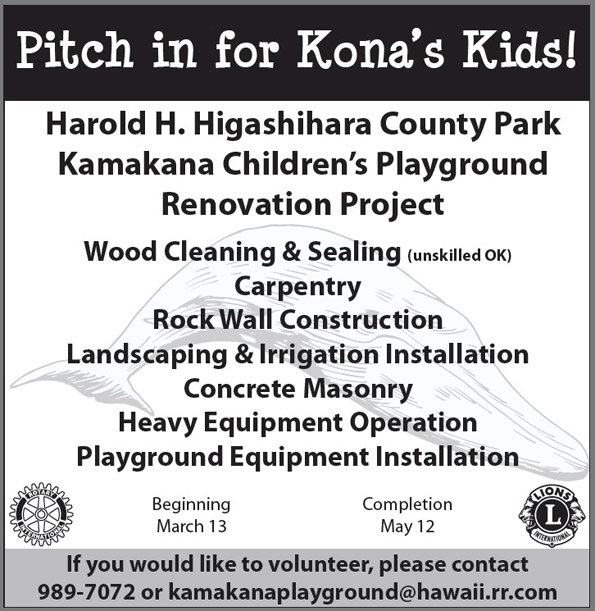 Kopp said the real work begins this weekend, with a completion deadline of May 13.
The project also includes work on the bathrooms, picnic and barbecue areas, parking lot and landscaping.
The playground will be divided into three areas, each geared to a specific age group – 1-5 years old, 5-8 years old and 8-12 years old.
Kamakana Children's Playground was built some 13 years ago – land, labor and materials were all donated – but has fallen into disrepair and needs to be brought into compliance with the Americans with Disabilities Act.
"Over the years, the park has deteriorated. From wear and tear, and just not good enough care," Kona Councilwoman Brenda Ford said.
Ford, along with her predecessor and playground champion Virginia Isbell, made sure to set aside $30,000 in county funds to kick start the renovation project. The Rotary Club of Kona Community Foundation chipped in another $10,000, and the Ironman Foundation this week added another $10,000.
Kopp said $50,000 is enough.
"It will get done on that. I don't see any need for any more money," he said, noting the project price tag would be about $250,000 if it were put out to bid.
Kopp said he has enough cash to buy everything that hasn't been donated or is not available on the island, including some very cool stuff. 
The 20-foot zip line, bouncy race car and high-tech climbing apparatus will make every park visitor wish they were 11 years old. And the toddler play pen will make every parent wish they had one at home.
"This equipment was literally chosen by going to the kids at the park with the catalog and asking them what they wanted and what they didn't," Kopp said. "We're taking the best of the park and preserving and restoring it. We're preserving the core feeling of the park" including the art work, the tower and the octopus.
Kopp said most of the work is not suitable for youngsters; however, they will be invited to help with some of the finishing touches toward the end of the renovations.
Work on the park is scheduled daily from about 7:30 a.m. to about 4 p.m. If you have some time in your schedule and want a neat community project to bolster your resume, just show up.
"There will be work to do for everyone," Kopp said. "Bring your boots, gloves, tools, shovels, hammers, whatever's your specialty."
Among the groups that already have volunteered are the Hawaii Carpenters Apprenticeship Program, Hawaii Drug Court participants and graduates, personnel from Pohakuloa Training Area and the Community Emergency Response Team from Kona.
The CERT guys will be practicing rappelling technique, while pulling weeds from a 165-foot-long rock wall. The wall is about 50 feet high and has an 80-degree slope. 
Kopp said he also plans to enlist area Boy Scouts and anyone else he can persuade to loan him some time and some effort.
"We are going to get private companies putting in a lot of sweat equity," he said. "It's been a good response."
Ford and Kopp said the park is well used by residents and typically has been well treated, perhaps because it truly is the park the people built.
"We want this one to be the prototype of a children's park, especially for West Hawaii," Ford said. 
Ford said a second phase of renovations – likely at county expense – will include paving the parking lot, repairing damage done to the ball field by foraging pigs (apparently the area around second base is particularly tasty), and converting the little-used volleyball court into a small skateboard park.
In addition to thanking more than two dozen local businesses that have stepped up, Kopp said new county Parks and Recreation director Bob Fitzgerald and Deac deCamp, the West Hawaii Parks and Rec. superintendent of maintenance, have been instrumental in getting the project off the ground.
Kopp said he is ready to go, and hopes the community will do its part again for Kamakana Children's Playground.
Call Kopp at 989-7072 or e-mail him at kamakanaplayground@hawaii.rr.c…. 
View Larger Map