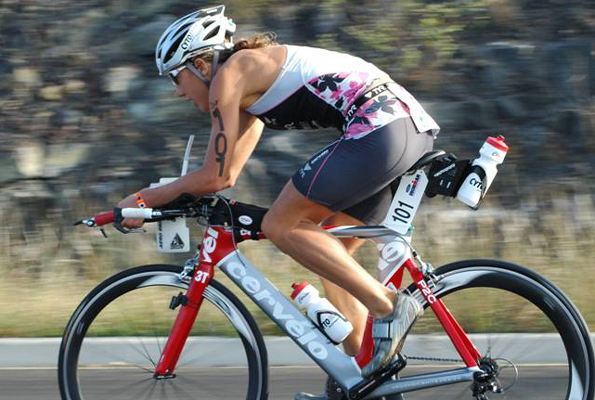 Karin Stanton/Hawaii247.com Contributing Editor
Some people will give you the shirt off their back. Chrissie Wellington will give you her sunglasses, her bicycle wheels, even a few minutes of her time right before the world championship – whatever it takes to help out.
It takes a special kind of athlete to make it to the start line of the Ironman world triathlon championships, an extra-special athlete to finish the race and a super athlete to remember Kona for the 11 months in between.
Hawaii hit the lottery when Chrissie Wellington stormed across the finish line way back in 2007. 
With a smile wider than Natascha Badmann's and a winning time this-close to Paula Newby-Fraser's record, Kona had a new darling and she has been paying off like a lucky lottery ticket ever since.
Wellington, a native of Great Britain and a former U.N. worker, seems to have adopted Kona.
"I want to be the person who speaks up and inspires people," she said. "You can touch people on an individual level. That is huge."
Earlier this month, the 31-year-old athlete offered up her bicycle wheels – seriously, HER WHEELS – for auction to benefit West Hawaii's own Peoples Advocacy for Trails Hawaii, a 22-year-old grassroots bicycle and pedestrian advocacy organization dedicated to connecting people and places with pathways and bikeways. The check made out to PATH totals $750.
It wasn't the first time Wellington put her gear on the auction block.
Just a couple of days after she defended her title, Wellington stood on the steps of the huge Oakley sales/marketing truck and offered up her sunglasses. One bidder kicked in $300 and another said he would match that – for breast cancer research.
That touched close to home as Wellington's grandmother waged a years-long battle against breast cancer only to lose her fight nine weeks before Wellington defended her world title in 2008.
"It's an issue close to my heart and to be able to do something really makes me and my family happy," Wellington said at the time. "I feel proud and privileged to help and I know Nana would be too."
The hype that should surround a two-time world champ does not seem to leak into Wellington's world.
"My mom and dad know as little about triathlons as I did. They've never told me I can't do anything. They've always said 'go and try,'" she said. "Ignorance really is bliss."
Wellington knew little about the lava fields that have reduced legends to tears, but the course and the competitors don't really matter.
"I don't defer to anyone. I didn't really know who anyone was," she said a couple of days before defending her title. "But that's what makes a race. I'll chase 'em down and when that works it's bloodly awesome and it's been a good year."
In between her two world championship titles, Wellington gobbled up courses and competitors, including coming within 1 minute of Paula Newby-Fraser's world record time for the Ironman distance. Wellington, however, slowed to enjoy the last mile or so, trading high-fives and smiles with the crowd.
"I really don't put that much emphasis on times and splits and stats," she said. "That's not something I give a toss about really. Conditions change and what matters to me is I'm faster than every other girl out there."
Wellington doesn't always see 'every other girl out there' as competition, sometimes they are the ones pushing her.
"I love raising that bar, but I'm not out there alone in this," she said. "People are training harder, limits that people thought were there, aren't there."
And the world champ has learned to love her Kona trips.
"This is hallowed turf. I've got an ever deeper respect. I'll race the same no matter what. You'll get the same out of me," she said. "The crown weighs heavy but I'm happy that I've proved I'm not a one hit wonder and I can handle."
Because she chats to just about anyone who stops her, Wellington has had a few strange questions.
"One guy in England asked if triathlon was pulling trucks," she said. "I said I'd be more likely to pull muscles."
Wellington admits there is one question that is not asked enough:
"Are you single? Do you need a sugar daddy?"
— Find out more:
PATH:  www.pathhawaii.org, 936-4653
Chrissie Wellington: www.chrissiewellington.org