Girls Game
 Results from BIIF girls soccer game Wednesday, Jan. 21 at Hawaii Prep:
Kealakehe       1
Hawaii Prep     3  
Senior Amelia Evans scored at the 15 minute mark to stake HPA to an early 1-0 lead.  Leeta Grap's long throw-in from the corner and Ku'uipo Nakoa's quick flick got the ball to Evans and she slid in a short 8 yard shot.
At the 28 minute mark, sophomore Gabby Menendez gathered in a loose ball in front of the Kealakehe goal and slid in a quick five yard shot to the short side.  Katie Case's long pass up to Nakoa started the play.
Junior Noe Enos scored with a left foot 20 yard shot at the 44 minute mark after breaking through after passes from Evans and Nakoa making the lead 3-0.
Four minutes later, Kealakehe's Cheyenne MacMullen scored with a quick turn-around left foot shot from the top of the box to give Kealakehe life and some momentum.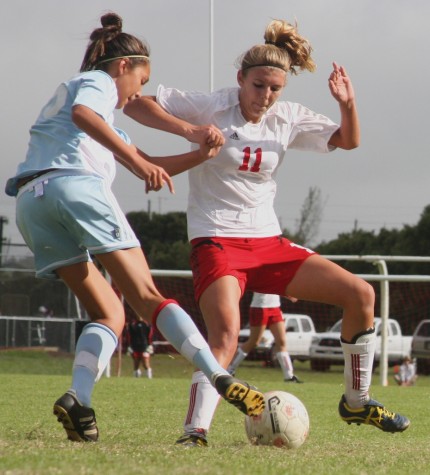 Coach's comments:
Today was some hard work for the girls.  It wasn't our prettiest effort of the season but the girls are learning how to find ways to be successful. Mindy Cambell (defender) and Hannah Unger (forward) played solid games and have steadily improved as of late.
Boys Game