Karin Stanton/Hawaii247.com Contributing Editor
KAILUA-KONA — As the sun set across Kailua Bay, the switch was flipped Friday evening to light up the first community holiday tree in Emma's Square.
The 16-foot artificial tree, decked out with ukulele and giant colored balls, will twinkle every night this holiday season from 5:30 p.m. until midnight across from the seawall near Hulihee Palace. 
The Holiday Cheer in Kailua Village program, sponsored by the Kailua Village Business Improvement District, also will feature music and entertainment beginning at 4:30 p.m. each Friday and 2 p.m. each Saturday through Dec. 20.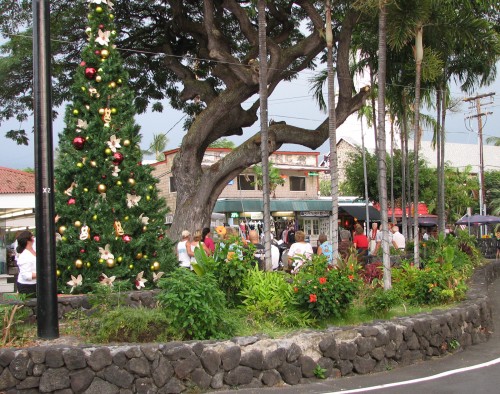 On hand to throw the switch Friday evening were Eric von Platen Luder, KVBID president, Miss Kona Coffee Kuulika Karratti and Miss Aloha Hawaii Kelsey Iyo.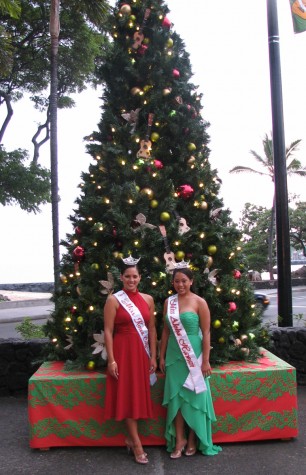 Friday evening's program also included songs from Hibiscus Jam and Kauwila.
Entertainment for Saturday, Nov. 29 includes the Kealakehe Intermediate School Ukulele & Chorus Group and Lea Lea Na Opio.
Performances throughout December are slated to include: Kona Brass Duo, Big Island School of Music with Michael Allen, Hawaiian Civic Club of Kona, Kuakini, The Merrie Monarchs, and Kahakai Elementary School Concert Band.